Civil War Dance Society

Brief History of Victorian Era Dancing
Last Updated on April 24th, 2005
During the 1860s life was simple and quite primitive to today's standards. The War Between The States took a toil on civilians as well as soldiers alike. As a form of entertainment dancing was a way to see neighbors and friends; naturally, the people wanted to also have an enjoyable evening. Dancing was generally performed as a very formal event. It was expected to dance with as many different people during the evening and was not uncommon to dance with both single or married people. It was improper for a Lady to turn-down an offer for a dance unless the Lady was tired or already asked for the dance. As for a Gentleman it was expected to be proper, cultured, and not allow any Lady to sit out a dance unless she previously accepted a dance.
Victorian Era dancing is fun and exciting! Some of the dances are similar and/or borrowed from earlier periods like Ole English and Colonial Periods. Other dances such as Ballroom, Canjun, Contra, and Country are derived from Victorian dancing. After the Civil War the aristocracy still performed Victorian dancing, but more of the common folks held dances in barns or buildings; therefore, the term "Barn Dancing" came about. Today, we call this Country dancing.
There are many delightful dance movements during the Victorian Era including marches, waltzes, circles and lines. Sets are generally grouped with 2 couples facing each other; whereas, quadrilles are sets of 4 couples forming a circle. During this time period, dancing was a form of entertainment and mingling with others was a fact of life. CWDS prides themselves in teaching dances such as the Grand March, Soldier's Joy, Virginia Reel, Snowball Reel, and, naturally, Couple's Waltzes. Kurt Grauf has performed at many of the national events in the tri-state area.
Civil War Dance Society's sole purpose is to have everyone, young or old or novice or experienced, share the excitement and gracefulness of Victorian Era dancing. See the calendar of events for local groups dances and workshops. If you are hosting a dance and you wish to have additional information about our organization, please send inquires to the dance master. Come on out and have some fun!
| | |
| --- | --- |
| | telephone: (717) 737-3974 |
| | |
| --- | --- |
| | address: 107 Ewe Road, Mechanicsburg, PA 17055 |
<! ....special links.... >




Previous | HomePage | Schedule of Events | Dance Etiquettes | Social Graces
CWDS History | Dance Master | Other Sites | Calendar of Events | Webmaster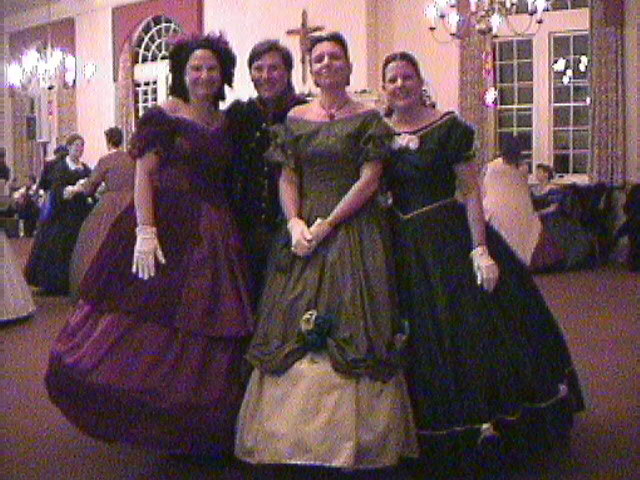 <! ...Disclaimer... >

All information above is not copyrighted material and is original writings by Kurt Grauf. Borrowing information from this website is granted upon obtaining permission from Civil War Dance Society.